Places to be lived in a variety of atmospheres...
For you, we have created different living spaces for each of your gourmet moments throughout the day, according to your desires:
'LE CALIXTE' offers a cosy bar, several lounges and a large buffet.
The bistronomic restaurant 'LE JARDIN DE CALIXTE
The gastronomic restaurant 'LA TABLE DES CHEFS'
The spa bar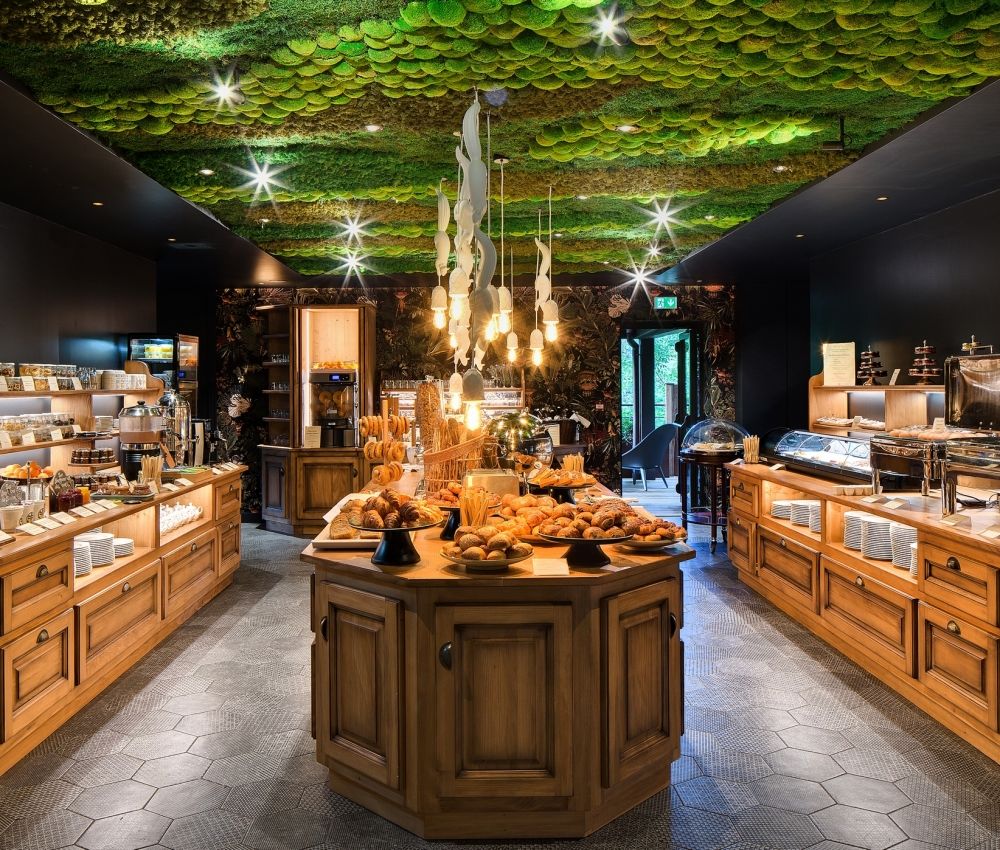 Breakfast at the large buffet
From 8 a.m. onwards, it is possible to set up in the catering area 'Le Calixte'...
The different rooms are bathed in light with access to a very large and pleasant terrace overlooking the surrounding forests.
Served in the form of a large buffet, the choice and quality of the breakfast are appreciated by all: a wide variety of homemade breads and cakes, a buffet of organic cereals, yoghurts from various farms in the area, freshly squeezed oranges, 10 different organic fruit and vegetable juices, honey from our beehives (depending on the season), artisanal jams from the Climont, prestigious Alsatian sparkling wine, Alsatian cheeses and charcuterie, etc...
The kitchen team prepares all sorts of farm egg-based dishes in front of you at the buffet, as well as fresh homemade pancakes.
Breakfast can also be served in your room (extra charge).
Daily news and sports newspapers as well as news in all languages are at your disposal.
In October 2019, La Cheneaudière's breakfast buffet was awarded the prestigious "Prix Villégiature du Meilleur Petit déjeuner d'Hôtel en Europe".
PRACTICAL INFORMATION :
Opening: Breakfast in the dining room every day from 8:00 am to 10:00 am. In the room from 8:00 am to 11:00 am
Dress code: Casual or in a bathrobe
Rates : €25 /person - Child from 0-4 years old : free - Child from 4-10 years old : €12 - Child from 10 years : €25. Room service: +7 € /person
Pets: Pets on a leash or in cages are allowed in the restaurants.
Read more
Close